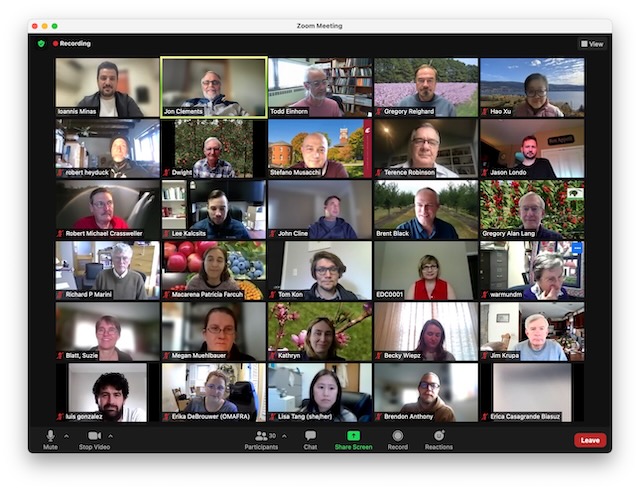 NC-140 Technical Committee Annual Meeting via Zoom, November 5, 2021
"Improving economic and environmental sustainability in tree fruit production through changes in rootstock use."
The NC-140 Regional Research Project is designed to address a number of high-priority areas within the North Central Region as well as other parts of North America. This project seeks to enhance economically and environmentally sustainable practices in temperate fruit production by focusing on rootstocks. The NC-140 project meets the guidelines presented by the North Central Regional Association (NCRA) in Guidelines for Multistate Research Activities (May 2001). Specifically, this project addresses high priorities defined by NCRA, within the crosscutting research areas of agricultural production, processing, and distribution, genetic resource development and manipulation, integrated pest management and economic development and policy. The project involves researchers from multiple states and is multidisciplinary. Researchers involved in this project have leveraged Federal and state dollars to add significant resources to address this research area. Lastly, outreach is integral to the project and includes electronic information transfer through web sites, written material for growers and other stakeholder groups, and numerous educational programs in individual states and at national and international grower and scientific meetings.
2022 ANNUAL MEETING AUTHORIZATION (November 2-3, 2022, Auburn, AL)
NC-140 Receives Award for Excellence in Multi-state Research
NC-140 application to 2015 ESS Award for Excellence in Multi-state Research
If you have any questions or can't find what you are looking for, please contact the webmaster or your State's Project Leader.
OBJECTIVES (2017-2022):
To evaluate the influence of rootstocks on temperate-zone fruit tree characteristics grown under varying environments and training systems using sustainable management practices.

To develop improved rootstocks for temperate-zone fruit trees, including breeding, using phenomic and genomic tools and acquisition of new rootstocks from global sources.

To investigate physiological processes, biotic and abiotic stresses and scion/rootstock interactions on tree growth and productivity. 

To integrate and disseminate research-based information that facilitates successful stakeholder adoption of rootstock technologies
More... (full approved project proposal, including statement of issues and justification, 2017-2022)
...Search NC140