2017 NC-140 Annual Meeting

!!! REGISTRATION Due October 5 !!!


Wenatchee, WA
Hosted by Stefano Musacchi
Department of Horticulture
Washington State University
November 14-15, 2017
Host
Stefano Musacchi (stefano.musacchi@wsu.edu), phone 509-663-8181 ext. 236. Mobile phone 509-415-9770.
Note: NC-140 Annual Meeting is for Members only or by invite...
Word document of this Annual Meeting Information and Agenda
---
Logistics
Venue: the meeting will be held at the Confluence Technology Center (CTC) 285 Technology Center Way #102, Wenatchee, WA 98801 on November 14 and 15.
Hotel: COMFORT SUITES 195 East Penny Road Wenatchee is close (walking distance) to the Confluence Technology Center. Each participant needs to reserve his own room calling the Hotel and provide his own credit card number. Make reservations by contacting Landon (Sales Director) at 509-662-1818 ext. 411. I set aside 36 double bedrooms and 16 king bedrooms (the cost is the same). Total 52 rooms. Rooms are under my name: Stefano Musacchi, NC-140 Meeting. The best price I was able to obtain is $124.20 per night, breakfast included. I reserved the rooms for 3 nights: from November 13th (check in) to November 16th (check out). If you are travelling in a different day [please make specific arrangements directly with Landon, hotel director.
!Deadline for Hotel reservation is October 5th, 2017!
Air Transportation
We have only one company Alaska Airline that fly to Wenatchee. We have three flights per day to and from Wenatchee.
Departures from Seattle: 10:23 am, 5:20 pm, 11:55 pm
Departures from Wenatchee: 5:58 am, 11:58 am, 6:42 pm
Other travel possibility
Wenatchee Valley Shuttle: this shuttle will leave the train station of Wenatchee and drop you at the SEA-TAC airport terminal and vice versa. It is a nice alternative. It will take 3 hours of drive. The Schedule will change at the end of August (August 31). Please check on line for this option at the following web page: https://www.wenatcheevalleyshuttle.com/schedules

Taxi in Wenatchee
The airport is 25-30 minutes away from the Hotel. The Hotel doesn't provide shuttle service.
Taxi late in the evening need to be reserved in advance. Here a list of the Taxi company available: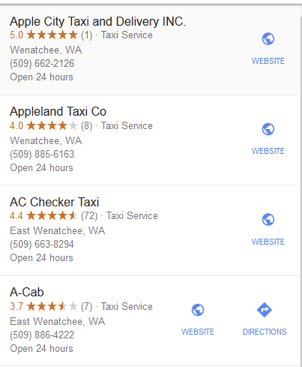 https://www.facebook.com/AppleCityTaxiAndDeliveryService/?ref=aymt_homepage_panel
http://applelandtaxi.wixsite.com/applelandtaxi
---
Registration
Registration can be done on-line at: http://www.brownpapertickets.com/event/3018932
Registration fee will be $120.00 payable via credit card. Registration includes use of the meeting facilities with refreshment breaks, lunch on Tuesday and Wednesday, transportation to the Horticulture Research Farm Sunrise (SRO) to view NC-140 plantings and then onto Legacy orchard (McDougal & Son Company). !Please register by October 5th!
---
Meeting Agenda
Monday November, 13  
Tuesday November, 14
7:30 to 8:00 AM - Registration
8:00 AM - Meeting opening
Welcome and Agenda Approval/Corrections
TFREC- WSU Administrative Welcome (Jim McFerson –  Center Director)
Washington Tree Fruit Research Commission Welcome (Mike Willett - WTFRC Manager)
Approval of 2016 minutes
Introduction of members
Administrative report by Ron Perry
Web site update (Jon Clements)
Report from Mike Parker about the new NC-140 just approved
9:00 to 11:30 AM - Rootstock trial reports
Each trial coordinators will present a power point (5-10 slides in total) with the scheme of the trial, the list of rootstocks, the list of participants and main results of the trial). Each coordinator will have 15 minutes including the discussion with the group. (If you are not attending the meeting please identify your substitute and communicate his name to the organizer).
2009 Pear Rootstock – Rachel Elkins 15 minutes
2009 Peach Rootstock – Greg Reighard 15 minutes
2009 Peach Physiology – Rich Marini (Final report) 15 minutes
2010 Apple Rootstock – Wes Autio - 15 minutes
2010 Sweet Cherry Rootstock & Training Systems – Greg Lang 15 minutes
2013 Pear training/spacing/rootstock - Todd Einhorn 15 minutes
2014 Apple Rootstock – John Cline 15 minutes
2014 Organic Apple rootstock – Wes Autio 15 minutes
11:30 AM to 12:00 PM - Future trials discussion
Greg Lang volunteered to coordinate apricot and cherry trials. Update of the situation.
Stefano Musacchi and Todd Einhorn will coordinate future apple trials. Planting will be delayed one year 2018. Update of the situation.
Discussion about a plum rootstock trial; need coordinator.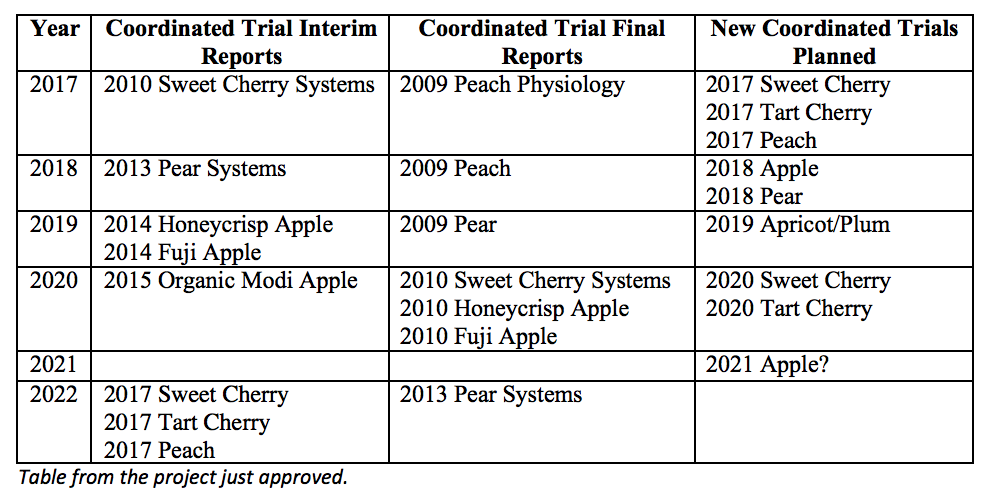 Lunch 12:00 to 1:00 PM
1:00 to 4:30 PM State reports
State Agricultural Experiment Stations: MN MI IA NM MA UT MO KY GA WA NC PA SC ME VA (15 states). Limit discussion to 15 minutes per state (highlights only). Summary Power Point slides admissible; details found in web page reports.
Georgia
Iowa
Kentucky
Maine
Massachusetts
Michigan
Minnesota
Missouri
New Mexico
North Carolina
Pennsylvania
South Carolina
Utah
Virginia
Washington
4:30 to 5:00 PM Break
5:00 to 6:30 PM Open meeting with nursery and industry.
Scott Harper (Clean Plant Center) Washington State University. (Already contacted confirmed)
Bill Howell (Northwest Nursery Improve Institute) (NNII). (Already contacted confirmed)
Mike Willet (Washington Tree Fruit Research Commission). (Already contacted confirmed)
Amit Dhingra (Phytelligence)
Discussion about nursery priorities in rootstocks research
Tuesday Dinner – organized by local host but NOT included in registration fee (covered by each participant).
Wednesday November, 15
8 to 10 AM Student presentations
Each student will have 10 minutes total including the questions to present their activity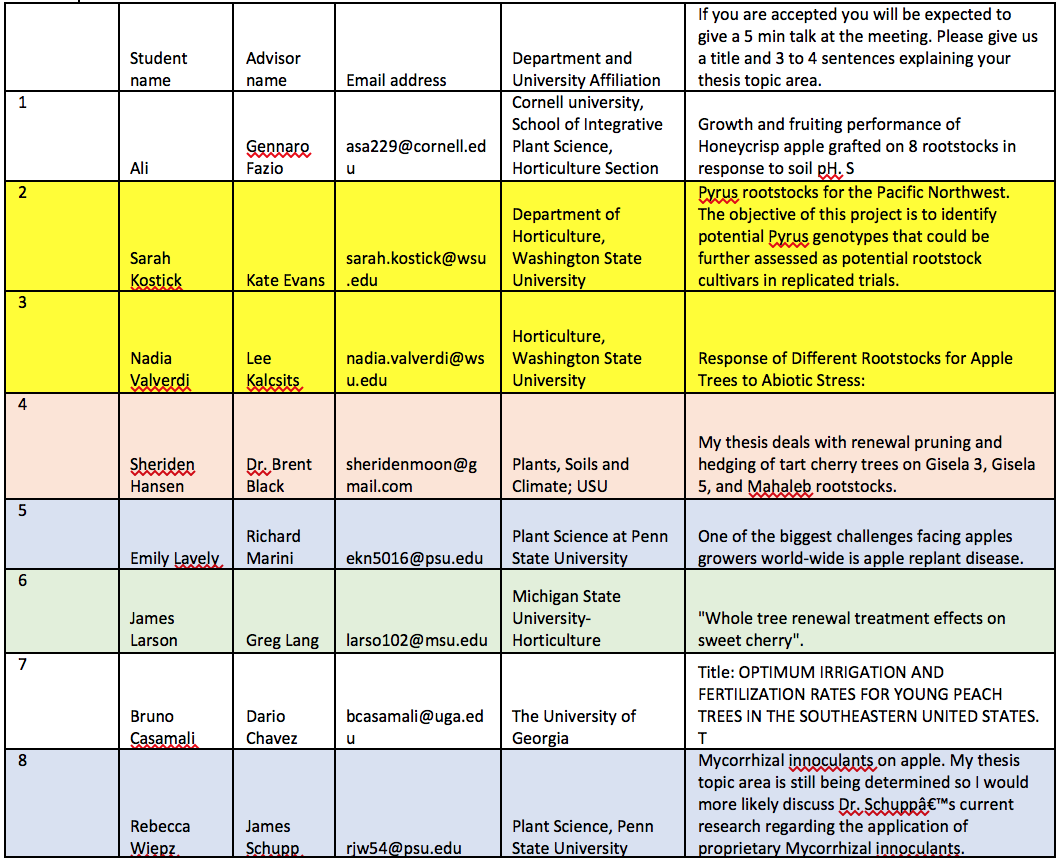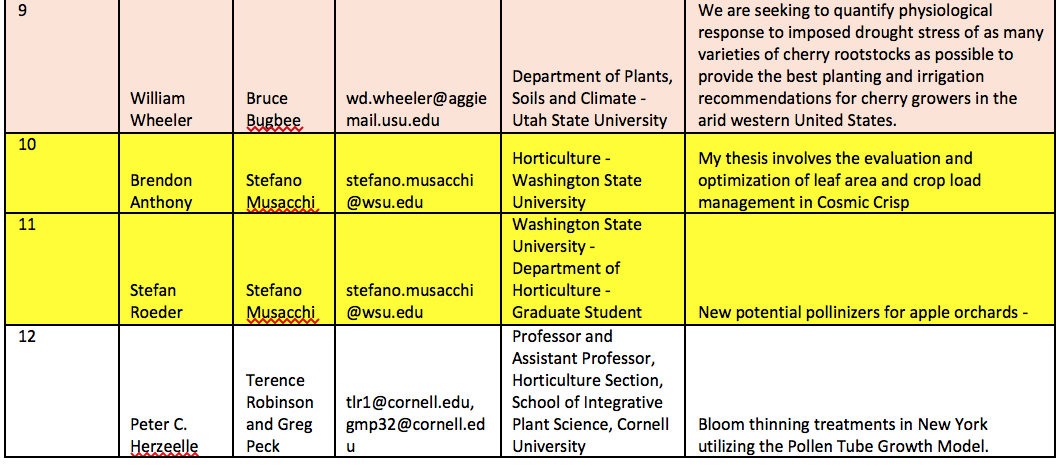 10 to 11 AM
State Reports left
Other administrative discussion.
Meeting Wrap up
                                   
11 AM to 12 PM
12 PM
Departure to visit WSU Sunrise Orchard (SRO)
12:30 to 2:30 PM Visit WSU Sunrise Orchard (SRO) trials
Nc140 trials 2014 Apple Rootstock – Honeycrisp
Cosmic Crisp rootstocks and Training system trial
Cosmic Crisp top graft trial (Single, double and Triple axis)
2:30 PM Travel to Legacy Orchard - McDougal & Sons, Inc
3 to 4:30 PM
Orchard Tour
Cherry rootstock trial (dwarfing rootstocks) -Washington Tree Fruit Research Commission
5 PM Return to the Hotel
        
Wednesday dinner on your own
Thursday November, 16 
Research CENTER contact and address
Tree Fruit and Research Extension Center
1100 N. Western Avenue,
Washington State University
98801 Wenatchee, Washington State (USA)
Phone: (+ 1) 509-663-8181
Fax: (+1) 509-662-8714
Stefano Musacchi
Email: stefano.musacchi@wsu.edu
Phone: (+ 1) 509-663-8181 ext. 236
Fax: (+1) 509-662-8714
Mobile phone 509-415-9770
Jim McFerson
Director of the Tree Fruit and Research Extension Center
Email: jim.mcferson@wsu.edu
Phone: (+ 1) 509-663-8181 ext. 216
Fax: (+1) 509-662-8714
Mobile phone 509-669-3900
Karen Lewis
Regional Extension Specialist
Email: kmlewis@wsu.edu
Mobile phone: 509-760-2263